Main Content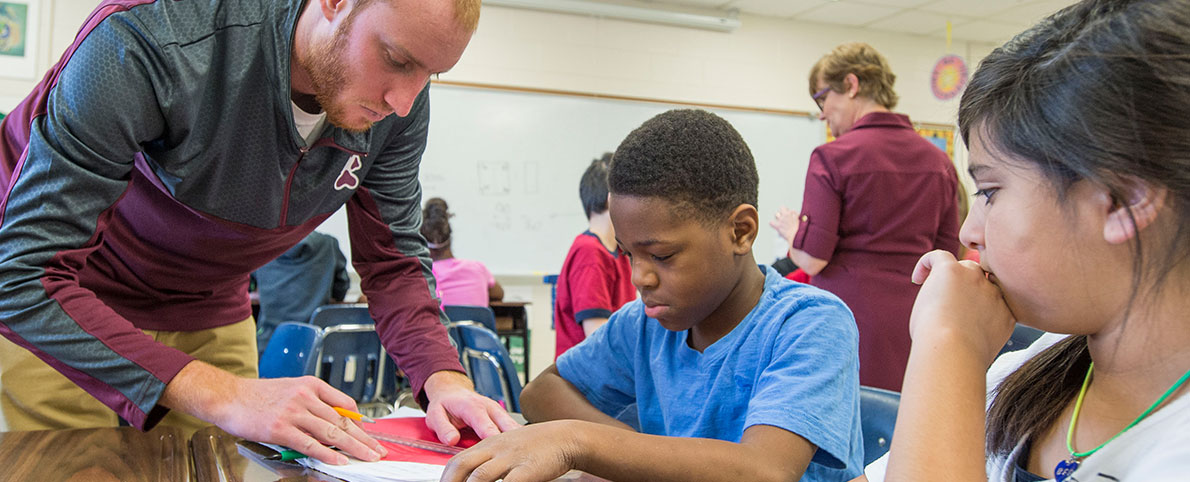 We prepare our students to be successful in careers as teachers, child care workers, social workers, school and community counselors and administrators at schools, colleges and universities.
Your care and support can change lives. Understanding what resources are available and how to connect those in need can get families and children back on their feet. This fulfilling career requires empathy, communication, tact, and strong listening skills.
Learning and teaching can be easy and fun. Delve into research, strategies, and creative and innovative teaching techniques. Through practice and theory, students learn to design invigorating curricula for all ages and abilities.
Self-esteem, and social and cognitive skills develop at a young age. Early childhood is a critical time of growth and educators play a major role. Teachers nurture, guide, and encourage students to learn about themselves and the world around them.
For those who think you cannot change the future, here is your chance. Our education program offers career paths in primary, secondary, and tertiary institutions and special education. We provide tools for success to make a difference today and tomorrow.
Can you see the big picture and put the pieces in place? Educational administrators are leaders who oversee entire institutions. They work with district administrators and teachers to assure necessary resources are available to promote a healthy learning environment.
The building blocks of education begin here; grades one through six. Molding the adults of tomorrow is a huge, yet rewarding responsibility. Our program prepares students to teach in self-contained classrooms, departmentalized, and team teaching environments.
Helping to develop future professionals is a profound experience. Our program provides an understanding of the importance, purpose, and organization of higher education. Career paths include leadership positions in higher education institutions and public and private agencies.
Everyone deserves to be heard and understood. It can be frustrating for those with disabilities and developmental delays when they are expected to learn using conventional methods. Our program prepares you to understand and educate those with special needs.
Educators are essential and inspirational. We help you gain confidence and knowledge to truly enjoy your career. For those with a passion for education, our program has it all - diverse courses and hands-on experience for future teachers and education-related professions.
Confident, content employees lead to better production and increased profits – everyone wins. Learn to help both employers and employees excel at their jobs through education and training. With your direction, workers gain enhanced job security and often increased earnings.
Below you can find the program you are interested in and the degrees, minors, and online options offered for that program. You will see some programs have specializations (for undergraduate programs)/ concentrations (for graduate programs) listed. These are focused areas of study.
Program
Bachelor's
Master's
Doctoral
Minor
Online
Child and Family Services
BS
 
 

Child and Family Services

 
College Teaching certificate
 
Certificate
 
 
 
Counseling And Rehabilitation Education
 
MS
 
 
Curriculum and Instruction
 
MSED, MAT
 
 
 
Early Childhood Education
BS
 
 
 
 
Education
 
 
PhD
 
 
Specializations/Concentrations:
Curriculum and Instruction
 
 
PhD
 
 
Educational Administration
 
 
PhD
 
 
Organizational Learning, Innovation, and Development
 
 
PhD
 
 
Educational Administration
 
MSED, Certificate
EdD
 
 
Specializations/Concentrations:
Higher Education
EdD
School Leadership
EdD
Special Education
EdD
Elementary Education
BS
 
 
 
 
Higher Education
 
MSED
 
 
 
Specializations/Concentrations:
College Student Personnel
 
MSED
 
 
 
Community College Teaching
 
MSED
 
 
 
Quantitative Methods c

ertificate

 
Certificate
 
 
 
Special Education
BS
 
 
 
Teacher Education Programs
BA, BFA, BS
MAT
 
 
Organizational Learning, Innovation, and Development
 BS
MSED
 

Organizational Learning, Innovation, and Development

 BS, MSED
Specializations/Concentrations:
Organizational Training and Development
BS