Main Content
Doctor of Philosophy in Education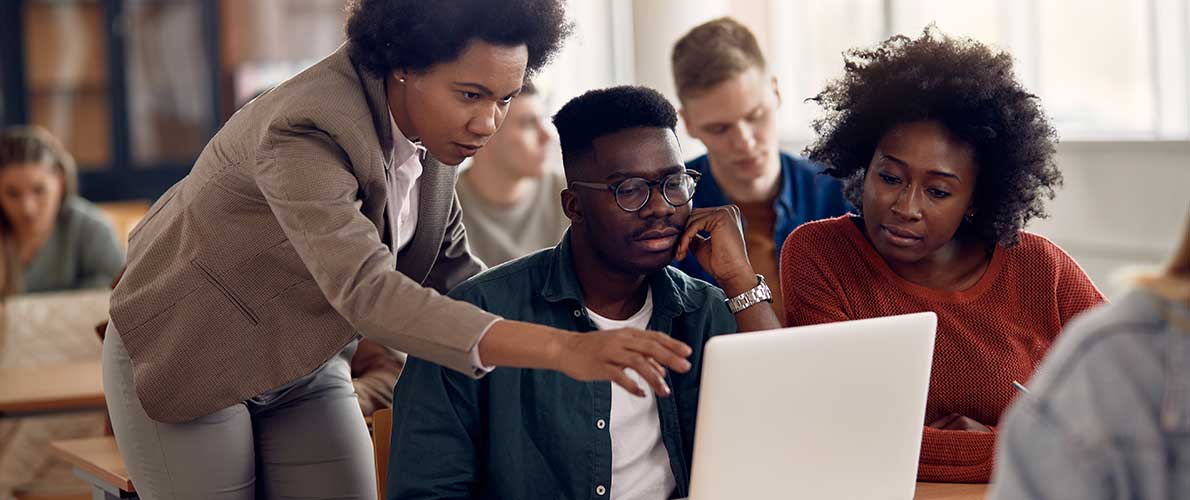 Our Doctor of Philosophy in Education program provides you with advanced-level preparation related to administrative practices and policies in P-20 educational settings. Our curriculum is designed to help you develop expertise in either pre-K-12 administration or higher education, depending on your interests.

As a student in our PhD program, you will gain the skills to do independent, high-quality research that can help you become a leader in the field of education. Our core curriculum includes an in-depth study of policy and politics in educational systems, leadership and change in educational organizations, program development and evaluation, ethics and social justice, and education and culture.

Our faculty is composed of world-renowned researchers and scholars who are committed to helping you succeed. They will provide you with personalized attention and guidance, and work with you to develop a research agenda that aligns with your interests and goals.
Focus Areas:
This degree has three degree paths in:
Curriculum and Instruction
Organizational Learning, Innovation, and Development
Educational Administration
Contact Information
Saran Donahoo
129C Pulliam Hall
475 Clocktower Dr,
Carbondale, Illinois 62901
618-453-6077
donahoo@siu.edu


Our Curriculum and Instruction focus is specifically designed for educators and other educational personnel who are looking to enhance their performance in both general and specialized areas, whether in the public schools or the private sector.

Our program offers advanced preparation at the highest level, with a specific focus on the theories of curriculum and instruction, as well as in-depth training in research methodologies. This makes it an ideal choice for students who are seeking positions in institutions of higher education, state departments of education in the United States, ministries of education in foreign countries, educational sections of human service agencies, business and industry, as well as public schools.

At our program, we aim to equip our students with the necessary skills and knowledge to succeed in their chosen field. With a rigorous curriculum that emphasizes both theoretical and practical aspects of education, our program provides students with a well-rounded education that prepares them for the challenges of the future.

So, whether you're a teacher or other educational personnel looking to enhance your performance or an aspiring academic looking to pursue a career in research or education policy, our Doctor of Philosophy in Education program can help you achieve your goals.
Our Organizational Learning, Innovation, and Development focus is designed to provide a broad, general leadership and professional development degree to professionals who have knowledge, experience, and interests in career and technical education, career education, employment and training, or related fields. Our program offers a comprehensive education that prepares students for leadership roles in these fields.
At our program, we believe in providing a well-rounded education that emphasizes both theoretical and practical aspects of workforce education and development. Our faculty members are experts in their respective fields, and they are committed to providing our students with the knowledge and skills necessary to succeed.
Whether you're a professional looking to enhance your knowledge and skills in workforce education and development or an aspiring academic seeking to pursue a career in research or education policy, our program is the perfect choice for you. We invite you to join our community of scholars and become a part of our legacy of excellence in education.
If you're interested in pursuing a focus in Educational Administration, our Ph.D. in Education is the perfect choice for you. Our program provides a comprehensive education that equips students with the skills and knowledge needed to make a significant impact in the field. As a research-centered degree, we place a strong emphasis on generating new knowledge and advancing the understanding of the discipline.

We're also excited to offer a cooperative doctoral program with SIU Edwardsville, which provides an unparalleled opportunity for students to collaborate with leading scholars and researchers in the field. With our expert faculty, state-of-the-art facilities, and cutting-edge research opportunities, our Ph.D. in Education program is the perfect choice for anyone looking to make a significant contribution to the field of Educational Administration.