Main Content
Humanities and Social Sciences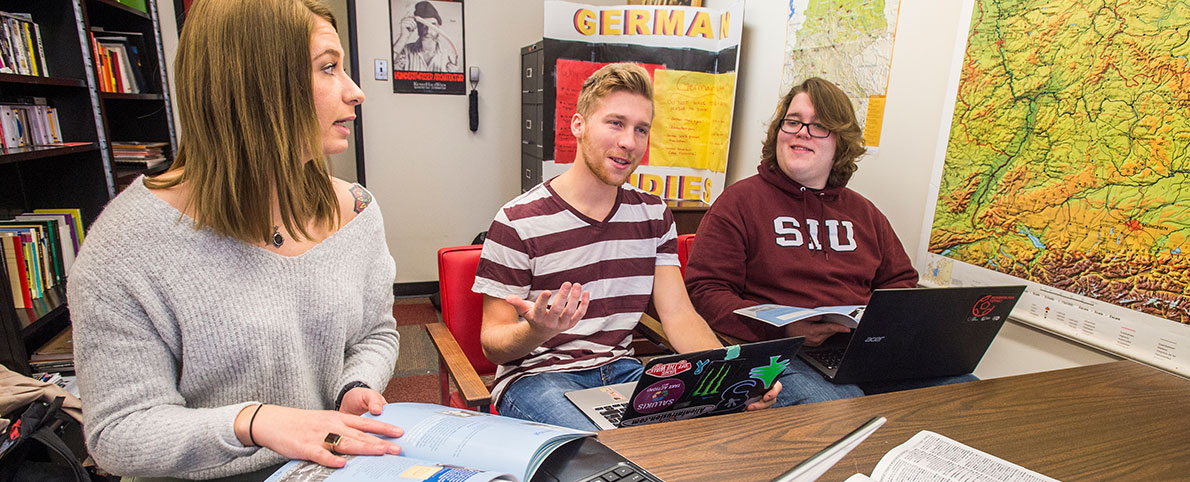 Celebrate the diversity of the world through our humanities and social sciences programs. You can choose to study one of many cultures or languages offered as well as anthropology, history, political science, sociology and more.
Africana Studies is an interdisciplinary degree that examines the histories, political and cultural movements, institutions, economies, and identities of Africans and the African diaspora. Africa's own overlapping cultures along with the disbursement of African people offer a comprehensive exploration.
Anthropologists analyze and study all aspects of humanity throughout the world. At SIU, our program encompasses the four aspects - modern human societies (Socio-cultural Anthropology), past human societies (Archaeology), human communication (Linguistic Anthropology), and human and primate biology (Biological Anthropology).
Creative writers learn techniques to compose and develop works of poetry, fiction, and nonfiction. These innovative skills teach students to confidently accept and work through challenges by expanding their outlook. Graduates are prepared for careers including journalism, business, entertainment, and government.
A degree in CCJ is a starting point for any criminal justice-related career. We offer a Bachelor of Arts degree, a CCJ minor and a Forensic Science minor, as well as Master of Arts and a Ph.D. degree.  Join one of the biggest programs on campus, enjoy the diversity we offer, and study with faculty who bring real-world experience to the classroom. Earn your bachelor's degree online, and learn with the same curriculum as on campus.
The study of literature and written communication help develop critical analysis, logical thinking, creative interpretation, and cultural awareness. English majors build a solid foundation in communication, research, and humanities. These skills are an asset for any profession.
Studying the past teaches us valuable lessons about the present and future. Students are encouraged to look beyond historical facts and question the surrounding circumstances. Graduates emerge with a well-rounded education perfect for a wide range of careers.
This program prepares students to understand and collaborate with our global society. Students learn modern and classical languages and gain an understanding of cultural contexts throughout the world. Our faculty is versed in literature, linguistics, pedagogy, philosophy, and foreign cultures.
Linguistics is the study of language. Students explore the sounds of language, word construction, sentence structure, and meaning. Linguists understand how language is learned and processed mentally, how it is used in socio-cultural contexts, and how it changes over time.
Philosophy is the study of the fundamental nature of knowledge, reality, and existence. At SIU, students explore logic, ethics, metaphysics, political and legal philosophy, the philosophy of science, the philosophy of technology, the history of philosophy, and the philosophy of religion.
Sociology is the intricate study of human behavior, its social consequences, social changes, and social life. Topics include criminology, delinquency, deviance, identity, marriage and family, race/ethnic relations, religion, sex, gender roles, social movements, social thought, and victimology.
Teaching English to non-English speakers involves a thorough understanding of the English language. Students learn teaching techniques, study different cultures, their customs, and distinct learning styles. Graduates are prepared for exciting careers in the United States and abroad.
This program allows students to build their own bachelor of arts or bachelor of sciences degree without a formal, declared major. Through the University Studies program, an advisor helps students create a custom degree based on their specific needs and interests.
This in-depth program explores gender and sexuality in global societies past and present. While it focuses on women's experiences, including race, class, and culture, it also naturally relates to broader themes such as masculinity, queer theory, and feminist theory.
Below you can find the program you are interested in and the degrees, minors, and online options offered for that program. You will see some programs have specializations (for undergraduate programs)/ concentrations (for graduate programs) listed. These are focused areas of study.
Program
Bachelor's
Master's
Doctoral
Minor
Online
Africana Studies
BA
Certificate
 
 
Ancient Practices minor
Anthropology
BA
MA
PhD
 
Creative Writing
 
MFA
 
 
 
Criminology and Criminal Justice
BA
MA
PhD

Criminology and Criminal Justice

 BA
English
BA, BS
MA
PhD
 
Specializations/Concentrations:
Creative Writing
BA
 
 
 
Literature
BA
MA
 
 
 
Preprofessional
BA
 
 
 
Rhetoric and Composition
MA
 
 
 
Historical Studies
 
 
PhD
 
History
BA,BS
MA
 BA
Specializations/Concentrations:
History Honors
BA,BS
 
 
 
 
Languages, Cultures,
International Studies
BA
 
 

American Sign Language
Chinese
Classical Civilization
East Asian Civilization
French
German
Greek
International Studies
Japanese
Latin
Mythology
Spanish

 
Specializations/Concentrations:
African and Middle Eastern Studies
BA
 
 
 
 
Asian and South Pacific Studies
BA
 
 
 
 
Classics
BA
 
 
 
 
East Asian Language and Culture
BA
 
 
 
 
European Studies
BA
 
 
 
 
Foreign Language and International Trade
BA
 
 
 
 
French, German, or Spanish
BA
 
 
 
 
Latin American and Caribbean Studies
BA
 
 
 
 
Latino and Latin American Studies minor
 
 
 

Latino and Latin American Studies

 
Linguistics
BA
MA
 
 
Native American Studies minor
 
 
 
 
Peace Studies minor
 
 
 
 
Philosophy
BA
MA
PhD
 
 
Political Science
BA
MA
PhD
 
Specializations/Concentrations:
International Affairs
BA
 
 
 
 
Pre-Law
BA
 
 
 
 

Public Service

BA
 
 
 
 
Sociology
BA
MA
PhD
 
Teaching English to Speakers of Other Languages
 
MA
 
 
 
University Studies
BA, BS
 
 
BA, BS
Women, Gender and Sexuality Studies minor or certificate
 
Certificate
 

Women, Gender and Sexuality Studies