Main Content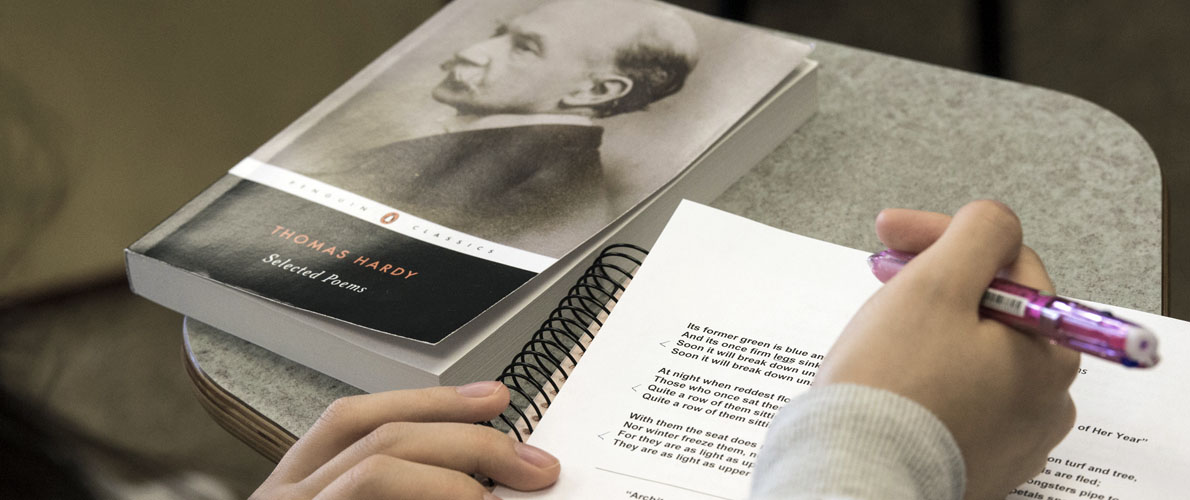 We have our feet rooted in tradition and our eyes on the future. We love literature in all its forms, from print to virtual. Here, you can study medieval literature — or you can learn how to write gaming narratives or podcasts in our Digital Humanities Lab. Start with Jane Austen, finish with sci-fi. Write your heart out in creative writing, or build a career with technical writing.
Whichever path you choose, you can count on graduating as a more a thoughtful and engaged citizen of our diverse global community, and ready to enter in a fulfilling career as a member of the creative classes.
English is a versatile degree, not just because of what we teach, but also because of the people who become English majors. We'll help you take your reading comprehension and written communication skills in any direction your career goals and passion for learning beckon.
We offer specializations is:
Literature
Creative Writing
Preprofessional
Teacher Education
Graduate-level English is a rigorous discipline for which there are no short cuts — you must read copiously, quickly, and well, and to formulate clear-headed, critical and original analysis. The pay-off is that this discipline provides the intellectual framework necessary for success in a variety of fields in addition to academic study of literature and writing. Pursue a Master of Arts degree on the path to a doctoral degree or as part of professional study in law or business. Or earn an M.F.A. in creative writing — a degree generally considered the top degree in the discipline.
If you want to teach English in college, you'll need a Ph.D. All doctoral programs require true dedication to the subject area. If you choose to earn your Ph.D. in English, bring your full passion for learning, your dedication to your academic goals, and a mind open to possibility. We'll support your career and academic goals by providing a challenging yet supportive program that gives you the tools to become a true scholar.