Main Content
Bachelor of Science in Dental Hygiene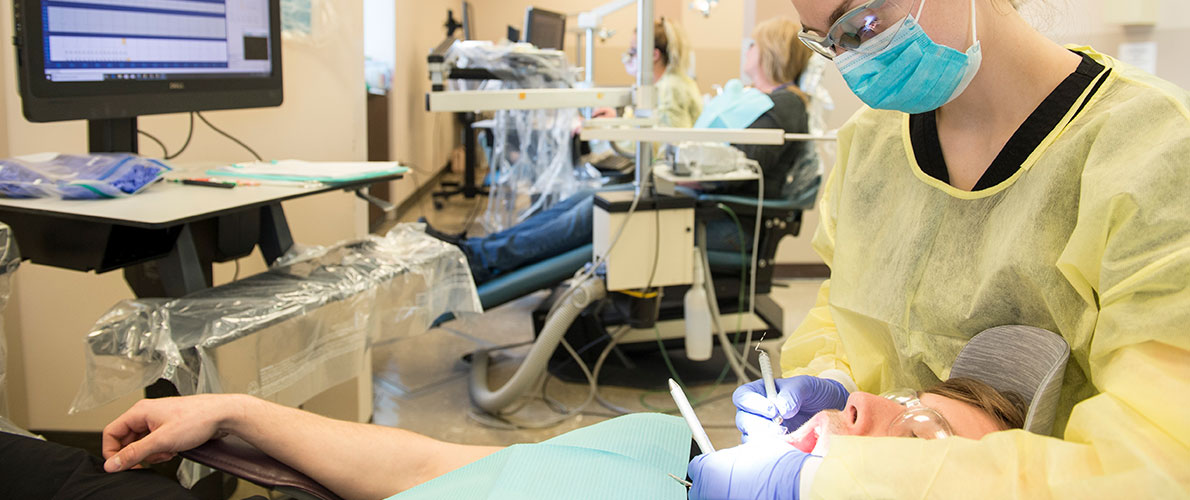 Students completing our Dental Hygiene Bachelor of Science program graduate with a strong sense of community. Classes are taught sequentially, which means you and your classmates will take the same courses together. Our students say this helps them form friendships that carry them through their college careers and beyond.
Selection is competitive. Each class has only 36 spaces to fill. This allows our faculty to ensure student success and to foster professionalism. Students help plan, prepare, and serve during "Give Kids a Smile Day," assist faculty with constructing case studies and peer-reviewed publications, perform data collection for presentations, create classroom learning tools, write grants to serve community partners, and help with Board Review.
Degree Requirements
The Dental Hygiene degree program can be earned by fulfilling the requirements for the Bachelor of Science degree.
Total Degree Requirements:

 

120 credit hours
University Core Curriculum:

 

39 credit hours
Anatomy Equivalent:

 

3 credit hours
Dental Hygiene Major Requirements:

 78

 credit hours

Check out the undergraduate Curricular Guide, which helps you outline what courses you would want to take each semester for all four years. View all related undergraduate courses. 
On-Campus
The Dental Hygiene program offers a challenging, professional level of education for students who intend to enter the oral health profession of dental hygiene. The curriculum is designed to incorporate advances in technology in the oral health field and is composed of 120 hours of academic course work to be completed in four years. In addition, students begin working on their nine-month online certification program during the spring semester of their junior year. Students must complete all dental hygiene courses with a grade of C or higher.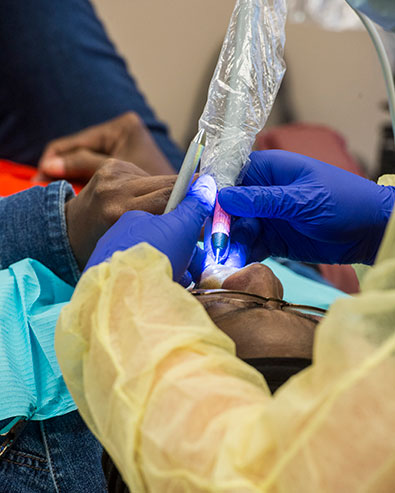 Online 
Our fully online Bachelor of Science Degree completion option in Dental Hygiene Management/Education is designed specifically for the credentialed, working dental hygiene professional with an associate's degree. Successful candidates complete 31 credit hours of Management/Education coursework, along with the general education and senior institution requirements for the university, for a total of 120 credit hours required for the baccalaureate degree. An internship or research project is also required.
Specialization
The specialization in Dental Hygiene Education and Management allows credentialed dental hygienists having already earned an associate's degree the opportunity to complete an official bachelor's degree.
Qualified students in this specialization will explore educational theories, philosophies, styles, and techniques, along with management concepts as they relate to health care fields.
Internships
Departmental internships are included in the curriculum as students progress through their sequential coursework. These settings provide real-world experience to future dental hygienists, managers, and educators, exposing them to a variety of patient population groups and tangible situations outside standard classroom environments. Interns also develop individual confidence, practical competency, and familiarity with scenarios and office norms typical of the average dental workplace.
Give Kids/Adults a Smile Day
"Give Kids a Smile Day" partners with community volunteer dentists and dental hygienists to provide dental treatment to area children without access to regular dental care, as well as adults on fixed incomes.
Students assist faculty in planning, implementing, and running this annual program.


Career Outlook
Our graduates enjoy careers in clinical dental hygiene, community health, research, product development, education, sales, management, insurance, and advocacy to name a few. Or you might find them as entrepreneurs or in independent practice. With a median annual pay at $74,820, the field is experiencing 20% growth, which outpaces the average for most other occupations. Additionally, as licensed professionals, dental hygienists perform most of their work independently, which allows for career flexibility.
Scholarships
Nearly 80 percent of SIU students receive financial aid in the forms of loans and scholarships. In addition to university-wide scholarships, students can access additional opportunities through the College of Health and Human Sciences.
The American Dental Hygienists' Association also provides personal and professional development opportunities as a benefit of student membership.
Facilities
SIU Carbondale provides multiple opportunities for Dental Hygiene students to gain clinical practice through the Dental Hygiene Clinic and the Community Dental Center.
The SIU Dental Hygiene Clinic offers a variety of oral care services to SIU students, faculty, staff and community members. Services include dental exams, oral prophylaxis (cleaning), periodontal debridement, X-rays, fluoride treatments, pit and fissure sealants, and other dental hygiene care, provided by students who have satisfactorily completed specific requirements prior to treating clinical patients. Dental Hygiene students are supervised by clinical dental hygiene faculty and dentists. Each patient is examined and diagnosed by a licensed dentist.
Located on our campus, the Community Dental Center provides preventive and restorative care for patients of all ages in the Southern Illinois region and surrounding area. Patients receive care from fourth-year SIU dental hygiene students, dentists, and a supervising dental hygienist.
Student Organization
The Student Chapter of the American Dental Hygienists' Association (SADHA) is a Registered Student Organization (RSO) on campus through the Office of Student Engagement (OSE).
The SADHA organization provides scholarship, educational, and professional networking opportunities to its members. Students generally join the chapter as part of their matriculation into the Dental Hygiene program.
Program Details
For current SIU students interested in applying for the Dental Hygiene program, please visit MyFuture at SIU.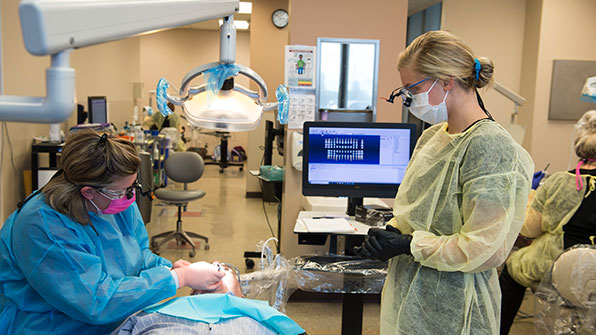 Contact Information
Stacey McKinney,
Program Director
Applied Sci Art Bldg 133
1365 Douglas Dr.
Carbondale, IL 62901
Phone: 618-453-2821
smckinney8@siu.edu
Michael Rowell,
Academic Advisor
Applied Sci Art Bldg 15E
1365 Douglas Dr.
Carbondale, IL 62901
Phone: 618-453-8869
michael.rowell@siu.edu