Main Content
Doctoral Degree in Occupational Therapy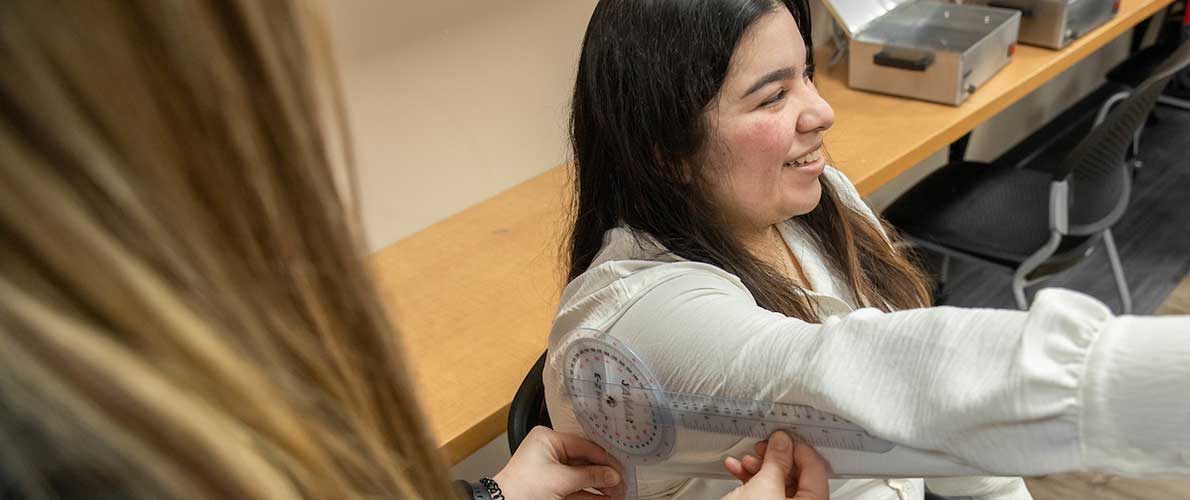 The entry-level doctoral program is designed to prepare students for practice, engage in research and scholarship, and reach beyond entry-level in the development of professional leadership skills in advocating for clients, services, and outcomes of intervention
The SIU OTD program is designed to be completed in three years. Our 103-credit hour, full-time, occupational therapy doctorate program is offered within a hybrid weekend format utilizing a blended learning model that incorporates on-line and on-campus learning experiences.
On-campus sessions meet approximately 8-10 weekends per term and include two 12-week full-time 40 hours per week supervised Level II Fieldwork placements. These are scheduled in the summer of year one and spring of year two of the program, culminating in a 14-week full-time 40 hour per week doctoral capstone experience and completion of a capstone project in spring of your final year.
The essential skills associated with participation and progression within the occupational therapy program includes:
Professional responsibilities
Observation skills
Communication
Intellectual, conceptual and analytical skills
Motor and psychomotor capabilities
Behavioral and social skills
Program Requirements
This full-time, three-year program requires 103 credit hours, presented in a hybrid format with online and on-campus lectures and labs. Students complete two12-week full-time (40 hour per week) supervised clinical fieldwork placements off-site, followed by a 14-week (40 hour per week) capstone experience and project. To sit for the NBCOT Certification Examination, the program must be accredited.
Graduates become OTRs and need licensure for practice, typically based on the exam results.

Check out the course sequence, which helps you outline what courses you would want to take each semester for all three years. View all related courses.

Application Process
The occupational therapy doctorate (OTD) program will utilize the Centralized Application Service for Occupational Therapy Programs (OTCAS) as part of our application process. The OTCAS Application, in addition to the SIU Graduate School Application, must be completed for consideration.
Application Timelines
OTCAS application for Fall 2024 opens July 21, 2023.
Use the OTCAS Applicant Help Center for assistance with this application.
SIU application for fall 2024 opens September 4, 2023
For priority consideration, applications must be verified by OTCAS on or before November 15. The final application deadline is February 1.

Qualified applicants for the program will receive email notifications by December 15 for the initial round of interviews with the faculty, and by February 15 for the final round. Interviews will take place between January 15 and February 1, as well as between February 15 and March 1. Admission decisions will be made by March 15.
SIU application
Items needed to complete the Graduate School Application:
Personal Data Information
Program Information
Previous Colleges
Public Safety Questions
Proof of Residency
OTCAS application
It is the responsibility of the applicant, without exception, to meet all application deadlines and maintain all updates to the applicant's OTCAS application.

To ensure email delivery, add donotreply@webadmit.org to your address book. Also periodically check the "Messages" section of your application as any email that is sent from OTCAS can also be found there.
Letters of Recommendation should be submitted to OTCAS only
Cost Estimate
The estimated cost for this program is $48,358.50 for 103 credits hours based on Fall 2023 in-state tuition. Below is a breakout of the tuition, fees and other known expenses, however, fees are subject to change.
| Cost | Description |
| --- | --- |
| $469.50/hour | Tuition for Illinois residents |
| $80.00/hour | University Fees |
| $14,276 | Housing per academic year |
| $1100/year | Textbooks/Supplies |
| $175/year | Fieldwork Database |
| $65 | Grad School Application |
Student Health Insurance must be obtained independently and Fieldwork and Doctoral Capstone Experience costs will vary based on location and facilty requirements.
View our cost estimating tool
The entry-level Occupational Therapy Doctorate (OTD) program, offered through the School of Health Sciences within the College of Health and Human Sciences, has been granted candidacy status for accreditation by the Accreditation Council for Occupational Therapy Education (ACOTE) of the American Occupational Therapy Association (AOTA).
6116 Executive Boulevard,
Suite 200, North Bethesda,
MD 20852-4929.
301-652-AOTA 
acoteonline.org
Technology Requirements
Students are required to have access to a computer and a mobile device for use while in the program, and have access to a reliable broadband internet connection. Available information on browser support for an optimal experience that offers better performance, accessibility and security for access to the D2L Learning Management System is available here.
Disability Support Services
We are committed to enabling students with differing abilities, access to completing the course of study within the occupational therapy doctorate program by means of reasonable accommodations consistent with the Americans with Disabilities Act (ADA).
If accommodations are needed by a student to perform the essential skills and requisite abilities, he or she must notify Disability Support Services. We are committed to providing an inclusive and accessible experience for all students with disabilities. Disability Support Services coordinates the implementation of accommodations, if you will need to seek support services on the basis of diagnosed disability, you will need to submit documentation to verify eligibility under Section 504 of the Rehabilitation Act of 1973. For more information regarding disability support services at SIU, visit the Disability Support Services website.