Main Content
Doctor of Philosophy in English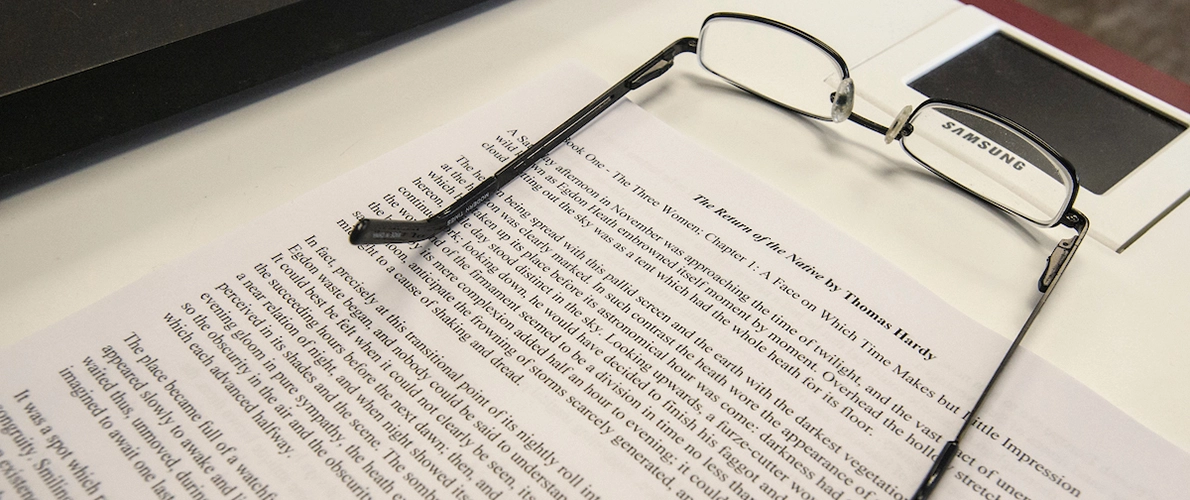 If you want to make your home in academia, you'll need a Ph.D. Especially at the doctoral level, English is an engaging, lively discipline, one with deep roots in the traditional approaches (such as chronological or geographical), and with the versatility and vitality to take on new and changing theories (such as gender studies and popular culture).
This is a discipline that requires dedication. And passion. To be a successful doctoral candidate, you must love literature enough to find your niche and become an expert in it. This takes time, painstaking study, and an open mind. You must also love the aims of a liberal arts education – that is, helping students of all majors become freethinkers, efficient communicators and civic-minded local and world citizens.
Program Details
This degree program requires independent study, research, and thinking, culminating in a written dissertation. Your dissertation will focus intensively on a single research project for a sustained period of time.
If you are a full-time student, and already have a master's degree, you can complete the doctoral program in English in two years, though most students prefer three. We do not prescribe a set list of courses or distribution requirements. Instead, you will develop a program of study in close consultation with a faculty advisor. This allows for maximum flexibility in your coursework, and the development of areas of research outside of traditional periods of literature.
Your qualifying examinations will cover one major and two minor areas you will choose with your dissertation committee. Upon successful completion of the examinations, you will be considered a doctoral candidate. This is usually described by saying you have advanced to candidacy. From there, you will work on your dissertation prospectus and the dissertation itself.
After you have finished your dissertation, you will present an oral defense of your dissertation before a committee. Successful defense of the dissertation – the research in it, the conclusions you have drawn, the relevance of the study to the discipline of English language and literature – is your last step before you earn your degree.
Applying for the Doctor of Philosophy in English Degree
You must apply formally for admission, even if you have earned a master's degree at SIU. Admission to the Ph.D. in English program is decided by the Graduate Studies Committee, which makes its decision according to the following criteria:
An M.A. degree in English or its equivalent
Official transcripts
Appropriate grade-point average (normally, a 3.25 is the acceptable minimum)
Statement of purpose
Three letters of recommendation
Writing sample
We will also consider the compatibility of your proposed area of focus with faculty expertise.
Standardized Tests
We do not require Graduate Record Examination GRE scores for admission to the MA, MFA, or PhD programs. However, the SIU Carbondale Graduate School does require GRE scores for fellowship consideration -- thus, their inclusion in the online application.
International students must submit TOEFL scores and a letter of sufficient financial support at the time of application. The minimum GPA for admission to SIU Carbondale's Graduate School is 2.7 (of 4.0).
Careers
The goal of a Ph.D. in English has traditionally been to gain a faculty position. If you choose academia, your career will almost certainly involve teaching. The studies of literature and writing have been a part of the university curriculum as long as there have been universities. There will always be a need for academics who can research and understand the intricacies of textual analysis – and who can teach basic critical understanding of literature and writing.
There are an increasing number of other careers for English Ph.D. graduates, including, public history, technical and professional writing, publishing (digital and traditional), arts and educational administration, grant writing and fundraising, and other forms of public humanities work.