Main Content

The American Speech-Language-Hearing Association (ASHA) is a national voluntary membership association whose primary scientific and professional focus is on human communication behavior and disorders. The Council on Academic Accreditation in Audiology and Speech-Language Pathology (CAA) of the American Speech-Language-Hearing Association (ASHA) accredits graduate programs that prepare individuals to enter professional practice in audiology and/or speech-language pathology. The CAA was established by ASHA and is authorized to function autonomously in setting and implementing standards and awarding accreditation. The CAA is recognized by the Council for Higher Education Accreditation and by the U.S. Secretary of Education as the accrediting agency for the accreditation and preaccreditation (accreditation candidate) of education programs leading to the first professional or clinical degree at the master's or doctoral level and for the accreditation of these programs offered via distance education, throughout the United States.
Mission Statement
The SIU CDS program is committed to multiple complimentary missions. We provide support for, and align with, the university, college, and department missions. The program prepares undergraduate students to obtain the B.S. degree with a major in Communication Disorders and Sciences, with course work that supports entry into graduate programs in communication disorders and sciences. The program prepares graduate students to enter speech-language pathology professional clinical practice for the betterment of society. To fulfill this mission, the academic and clinical curricula are design to:
satisfy the university and departmental requirements for a master's degree in speech-language pathology,
meet the current recognized standards of the Amercican Speech-Language-Hearing Association (ASHA) for national certification as a speech-language pathologist,
satisfy the academic and clinical practicum requirements of the Illinois Department of Professional Regulation for the license in speech-language pathology,
meet the academic and clinical practicum requirements for a non-teaching professional education license issued by the Illinois State Board of Education to speech-language pathologists, and
demonstrate the essential knowledge, skills and dispositions consistent with current scope of practice and standards of ethical conduct for speech-language pathologists, as developed by the ASHA.
In order to meet this mission the SIU CDS program will maintain accreditation by the council on Academic Accreditation in Audiology and Speech-Language Pathology of ASHA.
The intention of accreditation is to promote excellence in educational preparation while assuring the public that graduates of accredited programs are educated in a core set of knowledge and skills required to qualify for state and national credentials for independent professional practice. Quality education can be achieved in a variety of ways, and the CAA wishes to support programs in the achievement of the highest quality possible. These standards identify basic elements that must exist in all accredited graduate education programs while allowing flexibility in the ways in which programs pursue excellence.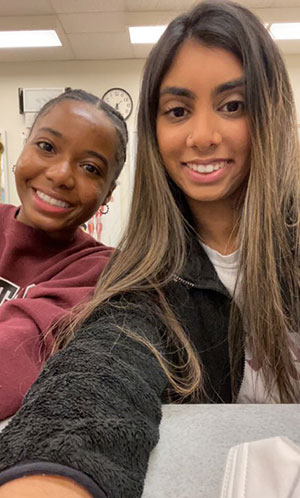 The CAA has identified the following six components as essential to quality education in the professions and has established its accreditation standards accordingly:
administrative structure and governance
faculty
curriculum (academic and clinical education)
students
assessment
program resources
(source: American Speech-Language-Hearing Association)
The SIUC CDS program was accredited most recently by the CAA in 2017, and as a result of that accreditation we are currently accredited through 2025. Our program is due for review beginning in 2/2024.
Student Achievement Data
Praxis Exam of Educational Testing Service: The American Speech-Language-Hearing Association (ASHA) requires individuals seeking national certification as speech-language pathologists (CCC-SLP) to pass the Praxis Exam. Passage of the Praxis is not an SIUC CDS program requirement because national certification is voluntary.
Passage Rate of the Praxis at SIU
Praxis Exam Pass Rates

| Period | Students taking the exam | Students who passed | Pass Rate |
| --- | --- | --- | --- |
| 2022/2023 | 25 | 21 | 84% |
| 2021/2022 | 22 | 20 | 91% |
| 2020/2021 | 23 | 23 | 100% |
| 3 year average | 23 | 22 | 92% |
Program Completion Rates
The average program completion rates for the graduation cohorts in the last 3 years (based on enrollment data), within the program's published expectation for length of time for students to complete degree (i.e., 5 semesters). 
* Note that some students take more time to complete the program because they choose to take courses part time.
Completion rate for SIU's program
Communication Disorders and Sciences Graduate Program Completion Rates

| Period | Number completed program within expected time frame | Number completed later than expected time frame | Number not completing | Percentage completing in expected timeframe |
| --- | --- | --- | --- | --- |
| 2022/2023 | 23 | 2 | 0 | 92% |
| 2021/2022 | 24 | 3 | 0 | 89% |
| 2020/2021 | 23 | 1 | 0 | 96% |
| 3 year average | 23 | 2% | 0 | 92% |
Employment Rates
Number and percentage of CDS program's graduates who have been employed in the profession within one year of graduation, including graduates who are either employed or are pursuing further education in the profession. This is based on the number of graduates who contacted the SIUC CDS program to indicate they had not been employed and/or needed employment assistance. If graduates did not contact the program then the program made the assumption that the student found employment in the field.
Employment Rate of SIU Graduates
Employment Rate in the Profession

| Period | Number of graduates (#) | Percent of graduates (%) |
| --- | --- | --- |
| 2020/2021 | 24 | 100% |
| 2019/2020 | 23 | 100% |
| 2018/2019 | 23 | 100% |
| 3 year average | 23.5 | 100% |