Main Content
Master of Arts In English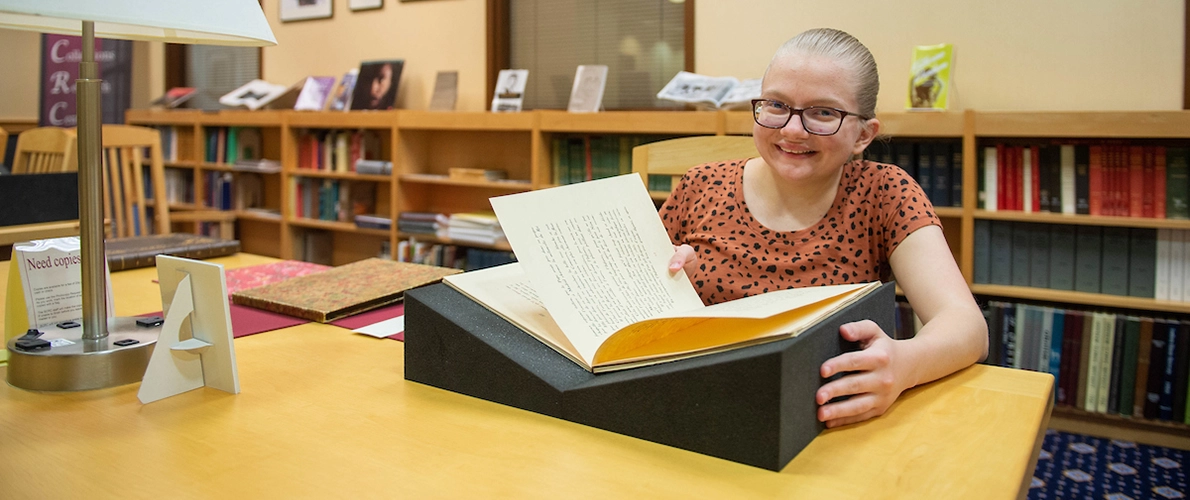 There are two basic categories of reasons to go on to graduate school in English.
One, because you love language and literature and you want to know more, to study more deeply. You want to learn more for the sake of the knowing, and because you believe there is value in understanding language, in knowing about literature. You are open to any career that makes a pursuit of language and literature possible. Possibly you are considering becoming a teacher—in high school, a community college, a college or university.
Or, you have other career goals in mind but you see the value in reading comprehension, textual analysis, thoughtful discussion—in writing or in person—of difficult topics, and you want to polish your writing skills. You might be thinking about a career in publishing or communications, law or business. Or perhaps in you'll apply your passion for English skills to another area of the humanities or social sciences.
Concentrations:
No matter what your ultimate goal is, we offer the resources, the faculty, and the supportive academic community you need to turn this love of English into a career. Choose your concentration, and begin the journey.
Literature
A focus on literature will give you insight into different time periods and geographic regions. You'll learn literary history, and literary criticism and theory. This is designed for those seeking an in-depth understanding of literature and its cultural impact. Explore diverse genres, authors, and periods. Develop critical and analytical thinking and writing skills that will serve you well in a variety of careers.
The Literature concentration is designed to be a 2-year program which requires 30 credit hours as well as reading knowledge of one foreign language. You will take a qualifying examination and have the option of also writing a thesis.
Rhetoric and Composition
The Rhetoric and Composition concentration prep emphasizes technical writing, and the mechanics of writing. It's applicable to careers such as grant writing, publishing and editing, law, library science, corporate communication, even technical and scientific manual writing.
This concentration is designed to be a 2-year program which requires 30 credit hours as well as reading knowledge of one foreign language.  You will complete a thesis or portfolio as your capstone project.
English Studies
If you are certain you won't want to teach at the college level, or if you don't intend to pursue a doctoral degree — but you do want to learn more about literature and writing or a master's degree will help further your career ambitions, English Studies is for you. You'll gain a broad understanding of the scope of English-language literature and hone your writing skills. And you'll be part of the graduate community that shares your love of literature.
The English Studies concentration requires 36 credit hours of course work and is designed to be completed in 2.5 years.

View the requirements for each of these concentrations or view all English courses.
Assistantships
Almost all MA, MFA, and PhD students hold graduate assistantships, which provide stipends for the academic year and full remission of tuition. The annual stipend, which comes with tuition remission, ranges from $13,000 to $14,500, depending on the degree. Assistantships are renewable to students in good standing: up to twenty-four months for MA students, up to thirty-two months for MFA, and forty-eight for PhD. Graduate students in good standing who have taught freshman English (ENGL 101 and 102) are also eligible to teach a variety of courses to broaden their teaching expertise, including literature courses, and to serve as tutors in the program's Writing Center.
Most graduate assistants are assigned to the University's first year writing program, in which they have full responsibility for two sections of composition each semester. An extensive series of pre-semester workshops, a semester-long seminar in the teaching of college composition, and a mentoring system complement graduate work and assist in professional development. Summer teaching is also available to a limited number of graduate students.
How to apply
The application deadline is January 1 for prospective students wanting the concentration of literary studies and rhetoric and composition. There is no deadline for applications for the English Studies concentration. However, to ensure full consideration for summer or fall admission, applicants should complete the Graduate School's application by April 20. To ensure full consideration for spring admission, applicants should complete the application by November 15.
The application will ask you to submit a CV, statement of purpose, writing sample, and three letters of recommendation, in addition to transcripts and other basic academic information. Please consult the following documents for advice on application materials, statements of purpose, and writing samples.
GRE scores (general or subject tests) are not required for admission to the MA, MFA, or PhD programs. The minimum GPA for admission to SIU Carbondale's Graduate School is 2.7 (of 4.0).