Main Content
José Najar

,

Associate Professor
José D. Najar is an Assistant Professor of History at Southern Illinois University Carbondale. He received his B.A.s in Sociology and Latin American Studies from the University of California, Santa Cruz, and a Ph. D. from Indiana University, Bloomington. He is a historian of nineteenth and twentieth-century Brazil and Latin America. His work focuses on whiteness and non-European diasporas in the Americas, gender inequality, imperialism, anti-colonial resistance, and transnationalism and transimperialism as historical methods. 
In his forthcoming book, Transimperial Anxieties: The Making and Unmaking of Arab Ottomans in São Paulo, Brazil, 1850–1940 (Nebraska University Press, 2023), Dr. Najar re-examines the myth of exceptional social mobility and other national and imperial narratives through the analysis of overlapping transimperial discourses of white privilege and gender inequality encapsulated in islamophobia and antisemitism. His scholarship focuses on the intersectionality of race, class, and gender as an axis in continuous motion that both challenges and provides a better understanding of historical events and narratives across political borders and time.  
Dr. Najar's work has appeared in academic journals such as Hamsa: Journal of Judaic and Islamic Studies, Al-Raida, Revista Complutense de Historia de América, and Arts and Humanities in Higher Education. Currently, he is working on two projects centered on state and everyday forms of violence. The studies look at how state and everyday violence was perpetrated against Arab-Ottoman immigrants in Brazil and what these forms of organized aggression tell us about national building, state terror, but most importantly social resistance. 
Before coming to Southern Illinois University, Dr. Najar taught world history at Indiana University/Purdue University at Columbus and Latina/o/x history in the Latino Studies program at Indiana University, Bloomington. His research, scholarship, and theoretical interests inform classroom practices and pedagogical approaches to teaching history, focusing on the diversity of students in front of him and around him in the classroom.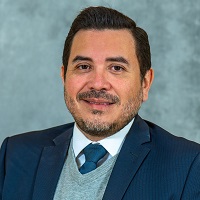 Office: Faner Hall 3374
Phone: 618-453-7872
jnajar@siu.edu