Main Content
Enrique Paz

,

Assistant Professor, Writing Center Director
Enrique Paz serves as director of the writing center and specializes in the field of rhetoric and composition. His graduate and undergraduate courses explore theory and practice of professional and technical writing, writing centers, rhetoric, composition pedagogy, research methodology, and student learning.
His research interests include writing-in-the-disciplines, professional writing, threshold concepts of writing, writing center administration and practice, and authorship and plagiarism. His current projects examine how writing experiences in college can change misconceptions around writing and how writing center experiences affect peer tutors' relationship to writing. Enrique's work has appeared in Across the Disciplines, The Peer Review, Computers and Composition, and in the edited collection Bad Ideas about Writing.
Enrique received his PhD in Composition and Rhetoric from Miami University in 2019 and taught business communication and professional writing at Miami's Farmer School of Business before coming to SIU.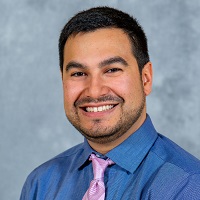 Office: Faner, Room 2380; Morris Library, Room 236A
Phone: 618-453-1236
enrique.paz@siu.edu
Curriculum Vitae
Research Areas:
writing-in-the-disciplines
professional writing
threshold concepts of writing
writing program administration
writing center theory and practice
authorship and plagiarism