Main Content
Pinckney Benedict

,

Professor
Pinckney Benedict studied creative writing at Princeton University (BA 1986) and at the Iowa Writers' Workshop (MFA 1988). He established and directs the Digital Humanities Lab of the College of Liberal Arts.
Pinckney Benedict grew up on his family's dairy farm in Greenbrier County, West Virginia. He studied English and creative writing at Princeton University as an undergraduate and received his MFA in Creative Writing from the Iowa Writers' Workshop. He has published a novel (Dogs of God) and three collections of short fiction, the most recent of which is Miracle Boy and Other Stories.

His work has been published in, among other magazines and anthologies, Esquire, Zoetrope: All-Story, Tin House, the O. Henry Award series (twice), the Pushcart Prize series (three times), the Best New Stories from the South series (four times), Apocalypse Now: Poems and Prose from the End of Days, The Ecco Anthology of Contemporary American Short Fiction, and The Oxford Book of the American Short Story (both the 1992 edition and the twentieth-anniversary edition). He wrote the screenplay for the feature film Four Days, which stars William Forsythe, Lolita Davidovich, Colm Meaney, and Kevin Zegers. He also wrote the lyrics and libretto for A:The Scarlet Letter, a musical adaptation of Nathaniel Hawthorne's novel.
News:
SIU's Pinckney Benedict infuses tech into creative writing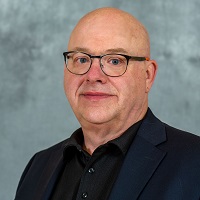 Office: Faner, Room 2244
Phone: 618-453-5321
pinckney@siu.edu
Curriculum Vitae
Benedict is the recipient of, among other awards and honors, a Literature Fellowship from the National Endowment for the Arts, a fiction grant from the Illinois Arts Council, two Plattner Awards for fiction from Appalachian Heritage magazine, a Literary Fellowship from the West Virginia Commission on the Arts, and the Chicago Tribune's Nelson Algren Award. He has taught on the creative writing faculties of, among others, Oberlin College, The Ohio State University, West Virginia University, Warren Wilson College, Princeton University, Davidson College, Queens University of Charlotte NC, and Hollins University. He has taught on the faculties of the Bread Loaf Writers' Conference, the Sewanee Writers' Conference, and the Aspen Writers' Foundation's Summer Words Writing Retreat & Literary Festival. He is a tutor for Oxford University's Artificial Intelligence: Cloud and Edge Implementations course, and he will serve as a tutor for Oxford's Metaverse: Creating and Deploying Services, a new course for creators, developers, and domain experts who aspire to be pioneers in the immersive world of the metaverse, in 2023.

He is the senior fiction writer in the Creative Writing Program of the School, as well as the founder and director of the Digital Humanities Lab (DHL) of the College of Liberal Arts, which puts powerful technology for creation in the hands of liberal arts students.
Specialties
fiction (short story and novel)

 

virtual reality

 

artificial intelligence (in art creation)

gaming and interactive narrative